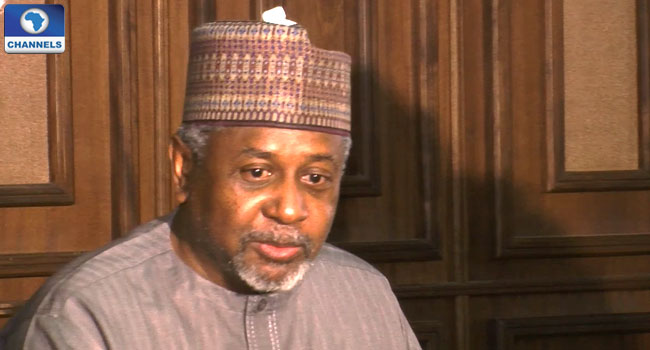 A Federal High Court in Abuja has issued a warrant against the Department of State Services (DSS) to produce the immediate past National Security Adviser, Retired Colonel Sambo Dasuki.
Justice Hussein Baba-Yusuf gave the order following a request by the Prosecutor Oluwaleke Atolagbe who asked that the court grants an order to enable Retired Colonel Dasuki to appear in court to answer to charges against him by the Federal Government.
READ ALSO: EFCC Arrests Justice Ofili-Ajumogobia As Court Strikes Out Corruption Charges
At the resumed trial today, the prosecutor told the court that he was ready to proceed with the trial as he has a witness who came all the way From Port Harcourt, but the absence of the 1st defendant in court remains a challenge.
Counsel to Colonel Dasuki, Mr. Victor Okwudili, however, expressed surprise that the prosecution is asking about whereabouts of his client when he knows where he is.
He maintained that the 1st defendant is in the custody of the prosecution and it behoves on the prosecution to produce him.
Mr. Dasuki is facing  criminal breach of trust, misappropriation and dishonest release of funds to the tune of N33.3 billion
---
Earn more money by sharing this post. Copy and paste the URL below and share to friends, when they click and visit Rant Money website you earn: https://ranthq.com.ng0
---
You have been spending money buying data to read news online while publishers make huge revenue from adverts without giving you a dime; this is about to change as Rant Money now shares her advert revenue with readers - 
---
Rant Money Comment Policy
Your comments MUST BE constructive with vivid and clear suggestion relating to the post.
Your comments MUST NOT be less than 5 words.
Do NOT in any way copy/duplicate or transmit another members comment and paste to earn. Members who indulge themselves copying and duplicating comments, their earnings would be wiped out totally as a warning and Account deactivated if the user continue the act again.
Rant Money does not pay for exclamatory comments Such as hahaha, nice one, wow, congrats, lmao, lol, etc are strictly forbidden and disallowed. Kindly adhere to this rule.
Constructive REPLY to comments is allowed