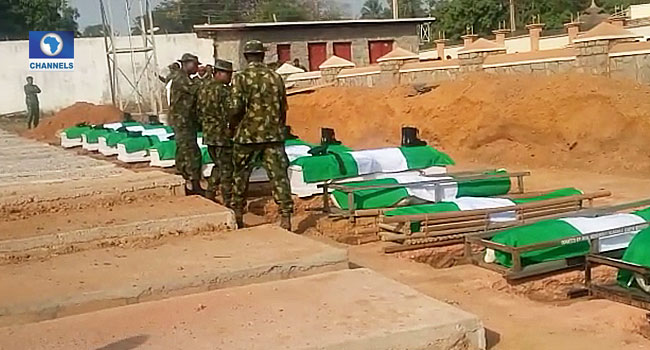 The Nigerian Army has buried 13 soldiers and an officer who were attacked by Boko Haram insurgents in Borno State in December 2018.
The burial which took place at the Commonwealth cemetery in Kaduna State on Friday, January 11, was witnessed by families of the fallen soldiers and senior Army officers.
Read Also: Nigerian Army Buries Fallen Metele Heroes
This comes just days after the burial of 19 soldiers who the Army said were killed by Boko Haram during the November 18 attack on Metele, Abadam LGA of Borno State.
They were buried at the military cemetery of the Maimalari Cantonment in Maiduguri, the state capital.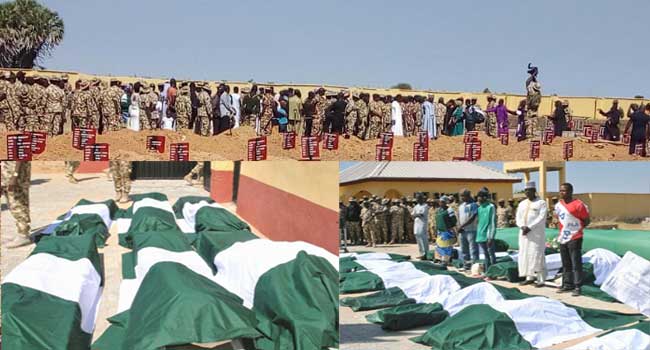 Borno State has remained one of the hotspots of insurgency with several attacks, claiming the lives of many innocent citizens as well as security operatives.
Overwhelmed by the spate of attacks in the state, Governor Kashim Shettima on Monday broke down in tears during a visit to President Muhammadu Buhari in Abuja.
He, however, said the leadership of the state had not lost hope in the President's ability to win the war against insurgents and restore the peace.
Read Also: [VIDEO] Borno Gov Weeps At Meeting With Buhari
Amidst the tears, he told the President that the delegation came to present a set of observations and specific requests from a security meeting held a week ago in the state, which will require urgent presidential intervention.
---
Earn more money by sharing this post. Copy and paste the URL below and share to friends, when they click and visit Rant Money website you earn: https://ranthq.com.ng0
---
You have been spending money buying data to read news online while publishers make huge revenue from adverts without giving you a dime; this is about to change as Rant Money now shares her advert revenue with readers - 
---
Rant Money Comment Policy
Your comments MUST BE constructive with vivid and clear suggestion relating to the post.
Your comments MUST NOT be less than 5 words.
Do NOT in any way copy/duplicate or transmit another members comment and paste to earn. Members who indulge themselves copying and duplicating comments, their earnings would be wiped out totally as a warning and Account deactivated if the user continue the act again.
Rant Money does not pay for exclamatory comments Such as hahaha, nice one, wow, congrats, lmao, lol, etc are strictly forbidden and disallowed. Kindly adhere to this rule.
Constructive REPLY to comments is allowed