April 14, 2019, marks the fifth year since Boko Haram terrorists invaded a secondary school in Chibok community in Borno State and abducted more than 200 girls.
Although 107 of the abducted schoolgirls have returned home, 112 girls and Leah Sharibu have yet to regain their freedom.
Leah is the schoolgirl abducted by the insurgents along with over 100 others in Dapchi, Yobe State in February 2018.
---
RELATED
BBOG Marks 5th Anniversary Of Chibok Abduction, Demands Release Of Remaining Girls
Chibok: We Will Never Give Up On Our Missing Daughters – Buhari
---
The terrorists had returned the other Dapchi girls but left Leah behind for refusing to renounce Christianity.
In commemoration of five years in Boko Haram captivity of the Chibok girls, members of the Bring Back Our Girls (BBOG) group set up chairs with the names of the remaining 112 girls and Leah as they hold their third annual lecture in Abuja, the nation's capital.
The chairs symbolise that the girls were kidnapped while in school and till this day, their chairs in school are empty.
Meanwhile, the parents of the Chibok girls held another commemoration event at the Government Secondary School, Chibok where their children were abducted in 2014.
Representatives of the community alleged that they were facing "genocide type elimination" by Boko Haram insurgents.
The President of Kibaku Area Development Association, Dauda Illiah, called for the Federal Government's assistance in this regard and sought relief materials for victims of attacks.
He also urged the government to build a rehabilitation centre for parents and victims of kidnappings in Chibok.
He asked the government to complete the 40km Chibok-Damboa Road which said has not been completed for 40 years and has become a den of kidnappers.
See the photos of the event in Abuja below: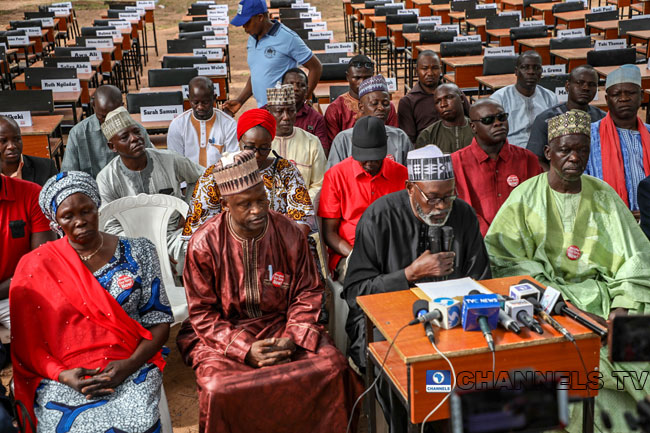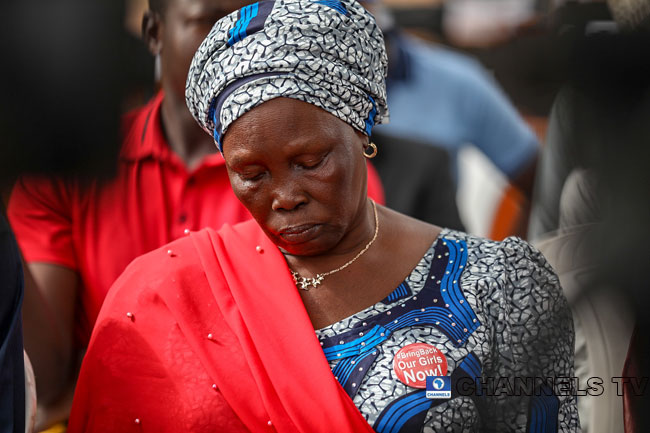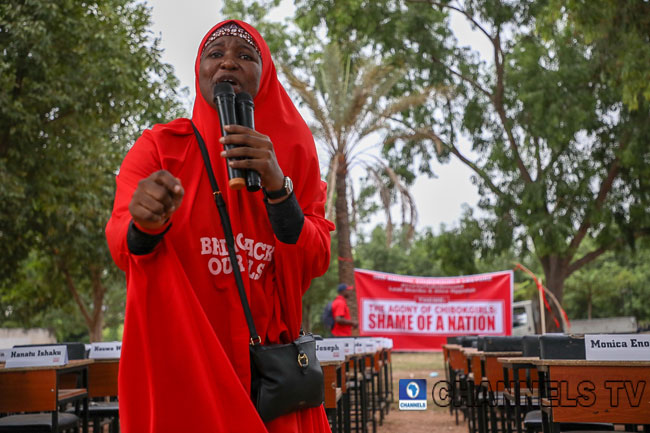 ---
Earn more money by sharing this post. Copy and paste the URL below and share to friends, when they click and visit Rant Money website you earn: https://ranthq.com.ng0
---
You have been spending money buying data to read news online while publishers make huge revenue from adverts without giving you a dime; this is about to change as Rant Money now shares her advert revenue with readers - 
---
Rant Money Comment Policy
Your comments MUST BE constructive with vivid and clear suggestion relating to the post.
Your comments MUST NOT be less than 5 words.
Do NOT in any way copy/duplicate or transmit another members comment and paste to earn. Members who indulge themselves copying and duplicating comments, their earnings would be wiped out totally as a warning and Account deactivated if the user continue the act again.
Rant Money does not pay for exclamatory comments Such as hahaha, nice one, wow, congrats, lmao, lol, etc are strictly forbidden and disallowed. Kindly adhere to this rule.
Constructive REPLY to comments is allowed