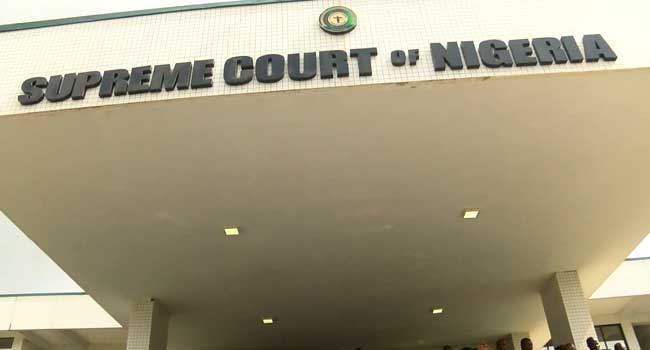 The Supreme Court has commenced hearing of the three appeals filed by the two factions of the All Progressives Congress (APC) in River State led by Ibrahim Umah and Ojukaye Amachree.
During the proceeding on Monday in Abuja, the court heard arguments for and against the ruling of the Court of Appeal which stayed execution of the judgment by Justice Chiwendu Nwogu.
Justice Nwogu had in his jugdement barred the Independent National Electoral Commission (INEC) from recognising the primaries conducted by the Rivers APC wherein Mr Tonye Cole and others were nominated to represent the party in the coming general elections.
READ ALSO: Boko Haram: PDP Berates FG As APC Insists Insurgents 'Have Been Caged'
After listening to the arguments of the parties involved, the Supreme Court proceeded on a short recess after which it would deliver a ruling on the appeals.
The ruling would be on the preliminary objection raised by the counsel to APC, Mr Lateef Fagbemi, urging the court not to hear the appeal filed by Mr Ibrahim Umah challenging the stay of execution of the judgment by Justice Nwogu
More to follow…
---
Earn more money by sharing this post. Copy and paste the URL below and share to friends, when they click and visit Rant Money website you earn: https://ranthq.com.ng0
---
You have been spending money buying data to read news online while publishers make huge revenue from adverts without giving you a dime; this is about to change as Rant Money now shares her advert revenue with readers - 
---
Rant Money Comment Policy
Your comments MUST BE constructive with vivid and clear suggestion relating to the post.
Your comments MUST NOT be less than 5 words.
Do NOT in any way copy/duplicate or transmit another members comment and paste to earn. Members who indulge themselves copying and duplicating comments, their earnings would be wiped out totally as a warning and Account deactivated if the user continue the act again.
Rant Money does not pay for exclamatory comments Such as hahaha, nice one, wow, congrats, lmao, lol, etc are strictly forbidden and disallowed. Kindly adhere to this rule.
Constructive REPLY to comments is allowed